Mixing propeller with self-cleaning outline.
High performance thanks to its particular hydraulic structure and maximum reliability even with long fibers.
Oil bath transmission with widia-widia mechanical seal and AISI 314 shaft.
Extreme protection of the transmission parts from contact with the pumped liquid and from accidental dry operation, maximum durability of the parts.
Tractor driven mixer with tube frame
| | |
| --- | --- |
| Drive | Tractor |
| Installation | Mobile transported by tractor |
| Impeller | Propeller with self-cleaning outline |
| Transmission | Oil bath with widia-widia mechanical seal |
| Metallurgy | Hot galvanized carpentry |
| Series feature | Tube frame |
| Model | | MBN 4 | MBN 5 | MBN 6 |
| --- | --- | --- | --- | --- |
| Ø propeller | mm | 600 | 600 | 600 |
| Max depth of work. | m | 2,5 | 3,5 | 4,5 |
| Max head | mc/h | 700 | 700 | 700 |
| Max power | kW | 60 | 60 | 60 |
Tractor driven mixer with trellis frame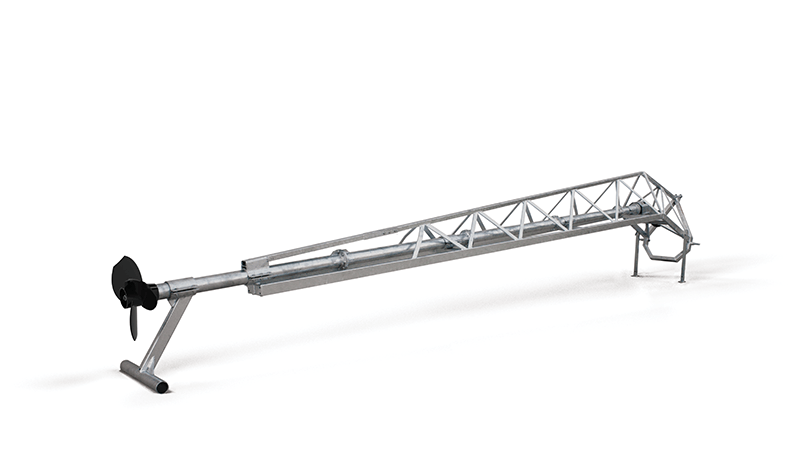 | | |
| --- | --- |
| Drive | Tractor |
| Installation | Mobile transported by tractor |
| Impeller | Propeller with self-cleaning outline |
| Transmission | Oil bath with widia-widia mechanical seal |
| Metallurgy | Hot galvanized carpentry |
| Series feature | Trellis frame |
| Model | | MBT 8 | MBT 9 |
| --- | --- | --- | --- |
| Ø propeller | mm | 600 | 600 |
| Max depth of work. | m | 5,5 | 6,5 |
| Max head | mc/h | 700 | 700 |
| Max power | kW | 60 | 60 |
Tractor driven mixer with column
| | |
| --- | --- |
| Drive | Tractor |
| Installation | Mobile transported by tractor |
| Impeller | Propeller with self-cleaning outline |
| Transmission | Oil bath with widia-widia mechanical seal |
| Metallurgy | Hot galvanized carpentry |
| Series feature | Hydraulically adjustable arm |
| Model | | MFN 2 | MFN 2,5 | MFN 3 | MFN 3,5 | MFN 4 | MFN 4,5 | MFN 5 | MFN 5,5 | MFN 6 |
| --- | --- | --- | --- | --- | --- | --- | --- | --- | --- | --- |
| Ø propeller | mm | 600 | 600 | 600 | 600 | 600 | 600 | 600 | 600 | 600 |
| Max head | mc/h | 700 | 700 | 700 | 700 | 700 | 700 | 700 | 700 | 700 |
| Max power | kW | 60 | 60 | 60 | 60 | 60 | 60 | 60 | 60 | 60 |
| Max height tank wall | m | 2 | 2,5 | 3 | 3,5 | 4 | 4,5 | 5 | 5,5 | 6 |
| Max depth arm 6 | m | 4,2 | 4,2 | 4,2 | 4,2 | – | – | – | – | – |
| Max depth arm 7 | m | 4,7 | 4,7 | 4,7 | 4,7 | 4,7 | 4,7 | – | – | – |
| Max depth arm 8 | m | 5,2 | 5,2 | 5,2 | 5,2 | 5,2 | 5,2 | 5,7 | 5,7 | 5,2 |
Tractor driven mixer with hydraulic rotation of the column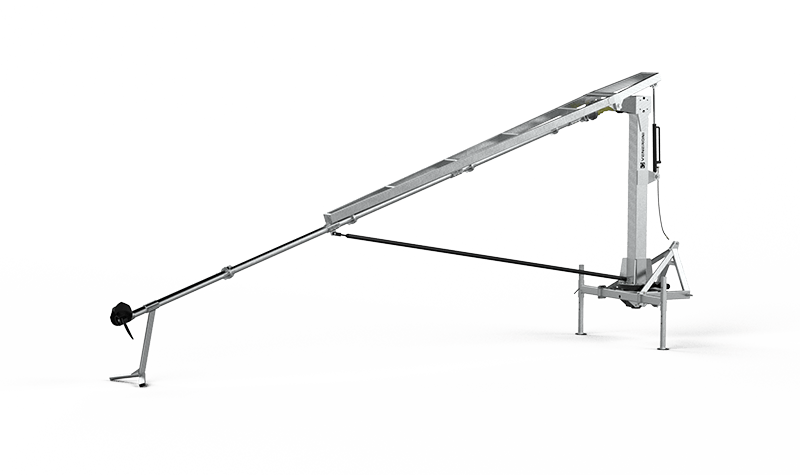 | | |
| --- | --- |
| Drive | Tractor |
| Installation | Mobile transported by tractor |
| Impeller | Propeller with self-cleaning outline |
| Transmission | Oil bath with widia-widia mechanical seal |
| Metallurgy | Hot galvanized carpentry |
| Series feature | Hydraulically adjustable arm and column with slewing ring |
| Model | | MFR 2 | MFR 2,5 | MFR 3 | MFR 3,5 |
| --- | --- | --- | --- | --- | --- |
| Ø propeller | mm | 600 | 600 | 600 | 600 |
| Max head | mc/h | 700 | 700 | 700 | 700 |
| Max power | kW | 60 | 60 | 60 | 60 |
| Max height tank wall | m | 2 | 2,5 | 3 | 3,5 |
| Max depth arm 6 | m | 4,2 | 4,2 | 4,2 | 4,2 |
| Max depth arm 7 | m | 4,7 | 4,7 | 4,7 | 4,7 |
| Max depth arm 8 | m | 5,2 | 5,2 | 5,2 | 5,2 |
Tractor driven mixing pump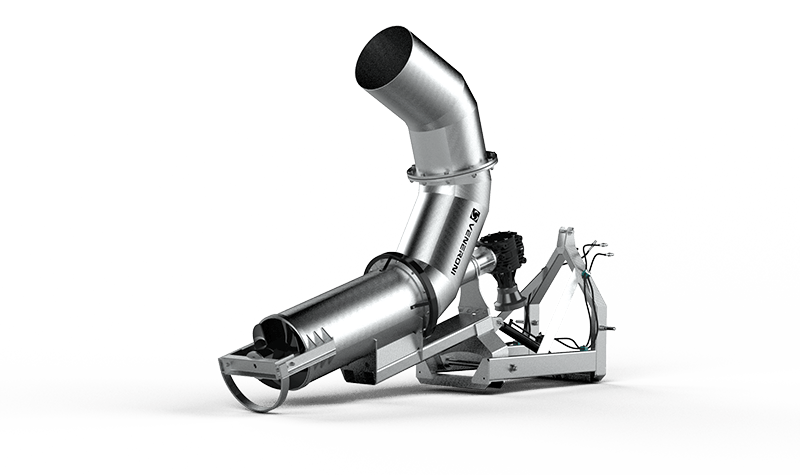 | | |
| --- | --- |
| Drive | Tractor |
| Installation | Mobile transported by tractor |
| Impeller | Cochlea |
| Transmission | Grease lubricated with watertight bottom support |
| Metallurgy | Hot galvanized carpentry |
| Series feature | Hydraulically adjustable positioning and delivery pipe |
| Model | | MCL 50 |
| --- | --- | --- |
| Ø delivery pipe | mm | 500 |
| Max depth of work | m | 3 |
| Max head | mc/h | 2700 |
| Max power | kW | 55 |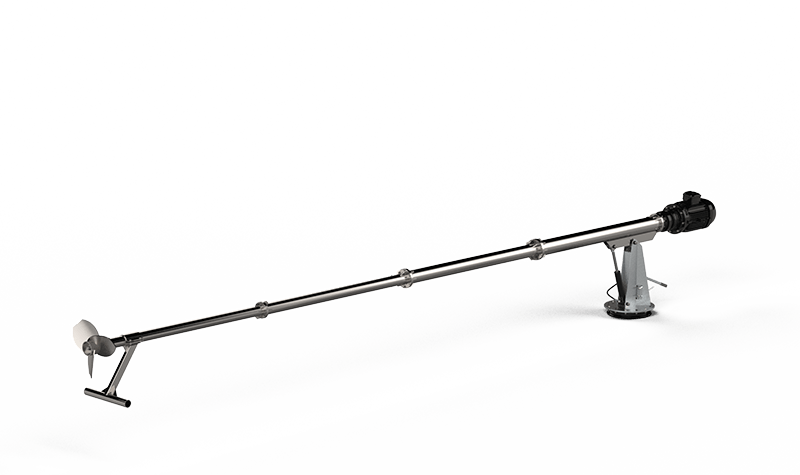 | | |
| --- | --- |
| Drive | Electric motor |
| Installation | Stationary to the wall or to the floor with optional frame |
| Impeller | Propeller with self-cleaning outline |
| Transmission | Oil bath with widia-widia mechanical seal |
| Metallurgy | AISI 304 stainless steel arm carpentry, hot galvanized column |
| Series feature | Hydraulically adjustable arm and manually adjustable column with slewing ring |
| Model | | MDE 4 | MDE 5 | MDE 6 | MDE 7 | MDE 8 | MDE 10 |
| --- | --- | --- | --- | --- | --- | --- | --- |
| Ø propeller | mm | 600 | 600 | 600 | 600 | 600 | 600 |
| Max depth of work | m | 2,5 | 3,5 | 4 | 5 | 5,5 | 7 |
| Max head | mc/h | 250 | 350 | 350 | 350 | 350 | 350 |
| Max power | kW | 11 | 18,5 | 18,5 | 18,5 | 18,5 | 18,5 |